Massage Therapy at Or Bereshit (First Light) Cabins:
Our everyday lives are filled with activity, stress, demands and the need to make regular decisions.
When you come to Or Bereshit, we would like to help you put all that behind you, to relax and to find peace.  To that end, we have built us a team of wonderful, professional massage therapist, experts in all fields of the art of massage.  Our therapist will come to your cabin to do the massage, allowing you to chill out in your relaxing cabin after the massage is over.  Our staff is expert in their field and are the best in the area.  
The treatments listed below can be given to both guests at once, by two masseurs, or one after the other, or only to one of you if that is your preference.
Payment is made directly to the masseurs, in cash and the prices listed below are for 1 person.
Classic massage:
based on the classic Swedish massage with oils and elements from Shiatsu. The massage focuses mainly on stiff and painful areas, releasing them, relaxing them and allowing the blood to flow more freely and to supply energy to the areas treated.
60 minutes = 250 shekel
Classic Japanese Shiatsu:
massage is done on a special mattress on the floor, or on the classic massage table, without oils. The massage comprises pressure points along the body's meridians, stretching, rocking limbs and massaging from your toes to your head.
Especially suitable to those who like deep massage, for the treatment of muscle and joint pain, headaches, for relaxation of the body and soul.
60 minutes = 250 shekel
Aromatherapy:
massage with aromatic oils, gentle massage with warm almond oil, enhanced with aromatic oils of your choice.  Relaxing, refreshing and can be helpful in situations such as the common cold, certain aches and pains, phlegm, sinusitis and more.
60 minutes = 250 shekel
75 minutes = 280 shekel
Polarity Massage: 
Massage of the hand, feet, head and face.  The massage is relaxing and very refreshing and can be done fully clothed.
50 minutes = 220 shekel
Pregnancy Massage:
Massage especially gentle for pregnant women.  The treatment is indulgent and supportive, especially in the period before giving birth.  It is suitable for women past 13 weeks pregnancy, and can be done with oils with the bottom half of the body clothed or completely clothed without oils. This massage is very effective in the treatment of backache in pregnancy, tired muscles and joints, sleep improvement and for relaxation.
60 minutes = 250 shekel
75 minutes = 280 shekel
Combined Massage:
uniquely designed according to the levels of stress  in the body. Based on the Swedish Massage with oils it includes elements from Shiatsu and Reflexology and Warm Stone Massage.
60 minutes = 300 shekel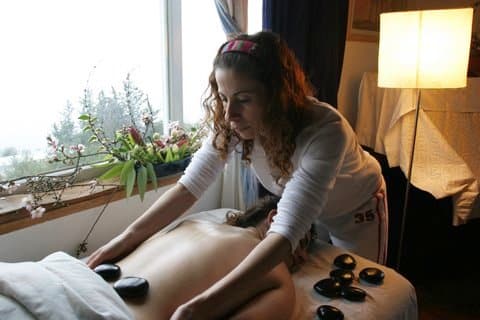 Majestic Massage:
The ultimate in pampering, combines deep back massage  warm almond oil and aromatic  oils, as in the Swedish Massage combined with the Warm Stone Massage.
At the end of the massage the body is swathed in warm towels doused with lavender oil.
For those who understand that we only live once….
90 minutes = 400 shekel
Looking forward to spoiling you,
Shalom and Debbie
Or Bereshit – Zimmers in Amirim
A perfect experience for couples in love
054-5747691