Or Bereshit Breakfast Menu:
You have an option to order one of these three breakfasts to your cabin.
The breakfast is made by Debbie on site, and is served in ishes made by her in her stained glass studio at the entrance to Or Bereshit (First Light cabins).
Each breakfast is for a couple.
Galileen Breakfast

Shakshuka Breakfast

2 herbed omlettes

Shakshuka with 4 eggs

Homemade sweet rolls' cheese rolls,

wholewheat rolls

Pitta breads and rolls

Cheese rolls

Fresh vegetable salad

A selection of cheeses from the region

Labane with olive oil and zatar

Labane with olive oil and zatar

Yogurt with honey and granola

Yogurt with honey and granola

Homemade jam with butter

Homemade jam with butter

Olive

Olive

Tchina

Tchina

Beetroot, avocado and other seasonal vegetables

  

O

range juice

Orange juice

  

Fruits of the season or fruit salad

   130 s

hekel

  

 130

s

hekel
Vegan Breakfast (140 shekel)
2 kinds of bread rolls (sweet and whole-wheat)
Vegan pancake, sweet or savory, made with whole-wheat flour and almond milk.
Jam, silan (date honey) and maple syrup for pancakes
Tabouli salad, or other seasonal salad
Vegetable salad
Beetroot salad
Avocado, in season
Tchina, olives, dried fruit
Chalva
Orange juice
General information about the breakfasts:
– You can order a regular omlette or any other kind of eggs if you prefer it to the herbed omlettes
– Please let us know if you are vegan when ordering the room and we will make sure that all the treats in the room are vegan friendly.
– You can also order a kosher breakfast. Please let us know the afternoon before.
– Vegan, gluten- free or milk- free breakfast should be ordered in advance so that we can prepare and serve you the best breakfast possible.
– All breakfasts are brought up to your cabin, to be enjoyed on the deck or in the cabin, depending on the weather.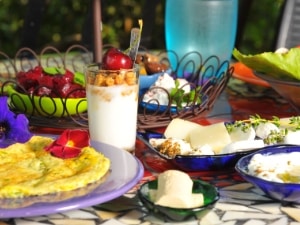 Looking forward to spoiling you,
Shalom and Debbie
Or Bereshit – Zimmers in Amirim
A perfect experience for couples in love
054-5747691